Have a dropshipping business you want to grow big? Getting into 2020, we have just the right options to help you get that gig going in no time. In the past couple of years, eCommerce platforms have grown bigger than ever.
What is an eCommerce Platform?
An eCommerce platform offers an intuitive space for businesses to sell their products & services online. An eCommerce platform makes income by providing hosting or even offering to build the site themselves.
Do You Need an eCommerce Platform?
According to HostingPill, eCommerce platforms have been growing in popularity for the past few years. It's becoming more & more popular among dropshipping traders that can't afford a physical store to sell their products. Hence, it's a wise choice to invest in eCommerce.
Which are the best eCommerce Platforms available?
Since there has been a huge boom in eCommerce, there are tons of platforms offering a variety of services and features. But which one would be THE right one for you? We've fetched out the best eCommerce platforms to help you start & grow in 2020.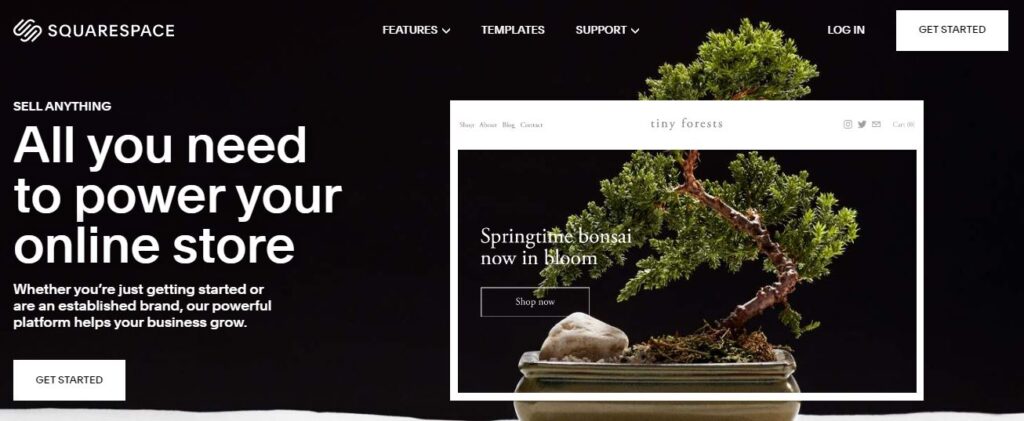 Squarespace is primarily known as a website builder with premium themes and templates. It has a wide user base with millions of websites being powered by their ecosystem which habituates beginners and pros alike.
On its e-commerce front, Squarespace offers unique product/service oriented UI designs, varied options for selling, flexible payment routes and integration of essential commerce tools.
Features
In-built SEO features
Social Media & Email Integration
Commerce Analytics
Customer Accounts
Personalized Checkout Page
Gift codes & coupons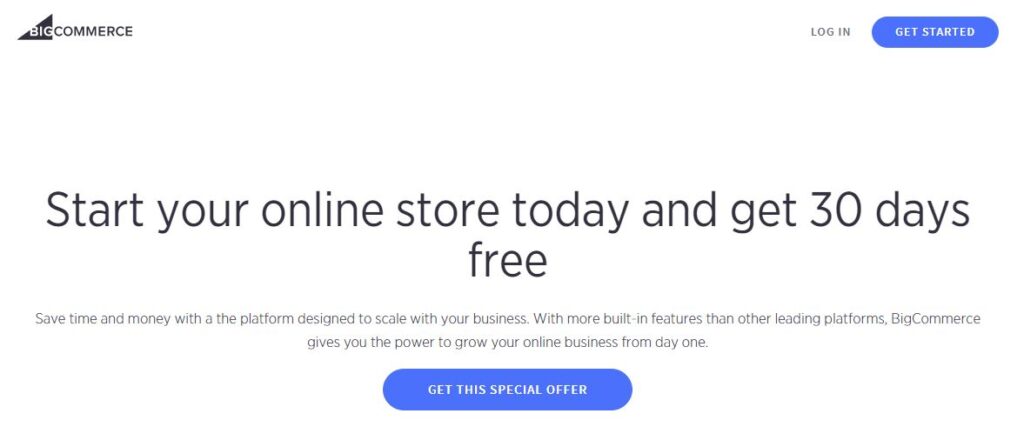 Like its name, BigCommerce is pretty huge in the e-commerce scene. With over 17 billion in sales, 200 million in fundings and millions of satisfied customers from over 100 countries, BigCommerce is bound to grow bigger in the near future.
BigCommerce's biggest strength comes from its stellar uptime records, premium features with affordable pricing, themes & app store integration and reliable customer support with a proper knowledge base.
Features
Responsive Website
Single-page checkout
Support for Apple Pay, Google Play, Amazon Pay
Coupons, Gift codes, and discounts
Professional reporting tools
Free Sitewide HTTPs and Dedicated SSL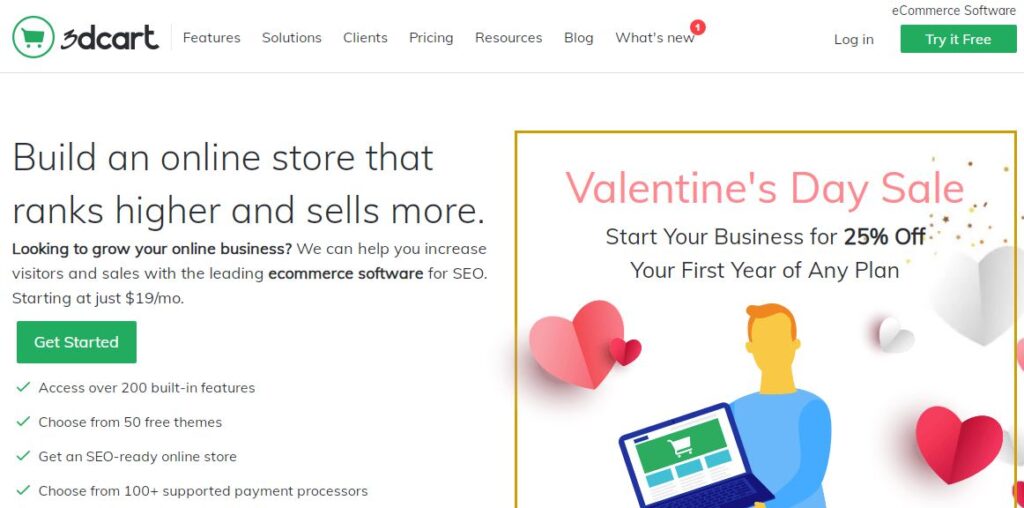 3dcart is another e-commerce solution that provides a range of premium tools and options for building an online store. What sets 3dcart apart, is that it offers unlimited bandwidth, storage and number of orders on all its plans.
Aside from the typical features, 3dcart offers a unique 'Abandoned cart saver tool' which sends an email to your visitors when they put something in the cart but didn't make the purchase at checkout.
Features
100+ Payment Providers
API Access
VISA PCI Security
Social Media & Mobile Integration
24×7 Tech Support
No transaction fees

Features
Custom Domain
Navigation Editor
Search Functionality
Responsive Themes
Shipping Options
Store Management Mobile App
The last 3 options on this list are all open-source(free) alternatives to the paid ones above. Now, as much as you can pay for a service, more options, especially free ones are hard to ignore.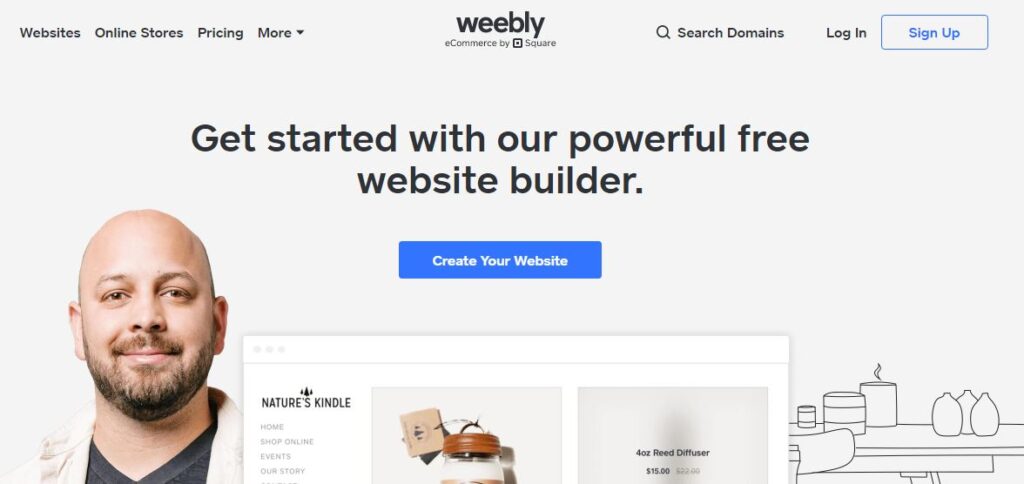 Weebly is one such free website builder targeted towards beginners and entrepreneurs who have that one idea but not the entire budget for a whole website. Hence, Weebly offers an feature-rich and intuitive website builder to get an online store up & running in no time (or money).
Now with that said, Weebly has paid options as well that offer more functionality and tools for the moment when you decide to scale up. Hence, flexibility is a great aspect for future opportunities.
Features
Free SSL Security
Domain with Weebly branding
SEO included
Lead Capture and Contact Forms
Community forum
Customer Support
Magento is another free e-commerce option. Magento emphasizes consumer interaction and experience at the forefront. Hence, providing a well-crafted experience with appropriate content to facilitate a smooth route to purchase.
Magento offers out-of-box premium features, locus customization options, and third-party integrations. Magento has also introduced a mobile app version of its service so the users can manage tasks on the go.
Features
Page Builder
Mobile & B2B Commerce
Customer Segmentation & Personalization
Inventory & Order Management
Sales & Ad Channels
Content Staging & Preview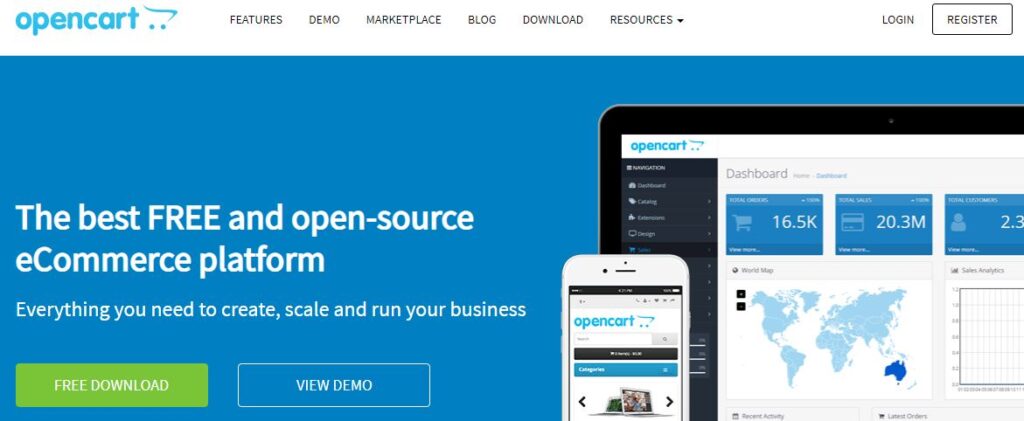 The last and free e-commerce platform on this list is OpenCart. OpenCart offers 2 options to get started, you can either download the program and set up hosting yourself or you could get started right away with their hosting partner A2hosting.
OpenCart has its own store or marketplace with free and paid premium plugins & apps. The only downside to point out is that there's a bit of a learning curve while setting up as you might require some experience with the web. But that hasn't kept the thousands of satisfied users from trying & getting around it.
Features
Admin Dashboard
User Management
Affiliates Management
Discounts, coupons, gift codes
Back-up and restore
Multi-store management
Conclusion
New businesses, Entrepreneurship and the advent of hustle culture have created immense waves for the last few years. Setting up an online business has become more accessible and doable than ever.
Any idea big or small can be monetized and made happen with a good amount of effort. Now, note that all the above services come with a trial period attached, so can you stay hassle-free if anything doesn't work out.
While the paid options are certainly preferable but that doesn't mean that people haven't gained success from the free ones as well. They both have their pros & cons, with the latter's biggest one being free.
Source: https://www.fahrenheitmarketing.com/best-ecommerce-platforms-in-2020/